Visiting Hartford
Hartford City Hall
Completed in 1915 and today listed on the National Register of Historic Places, Hartford's historic Municipal Building is an example of Beaux-Arts architecture. Designed by local architects Davis & Brooks, the building was built of brick, faced with Bethel white granite, and finished with a copper and tile roof and bronze entrances. A 3-story, 150' long central atrium is decorated with panels depicting scenes from Hartford's history.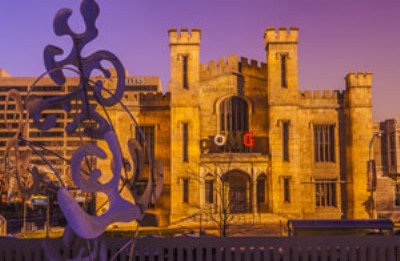 Wadsworth Atheneum
Founded in 1842 by arts patron Daniel Wadsworth, the Wadsworth Atheneum Museum of Art is the oldest continuously-operating public art museum in the United States, and the largest art museum in Connecticut. The castle-like building is listed on the National Register of Historic Places. Inside, the Wadsworth Atheneum's collection includes approximately 50,000 works of art spanning 5,000 years.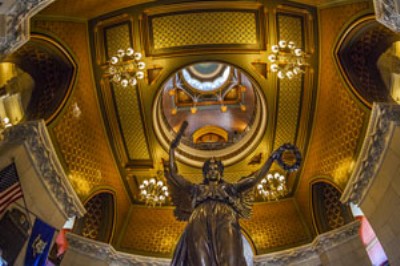 Old State House
At Connecticut's 1796 State House, you'll learn about how Connecticut's democracy was born and who made it happen. You'll meet people who went from ordinary to history-making by standing up for what they believed, and maybe think about where you fit in to "government by the people" yourself. The Old State House also offers dozens of pieces of Connecticut's amazing and eccentric history for your enjoyment.
Colt Armory
Located along the Connecticut River, the Colt Armory is a historic factory complex for the manufacture of firearms, created by Samuel Colt. The original 1855 East Armory was almost totally destroyed by a fire in 1864; the 5-story brick structure was rebuilt in 1867, complete with the distinctive blue onion-shaped dome.
The Mark Twain House & Museum
Tour the restored home of author Mark Twain, where he and his family lived from 1874 – 1891 and where Twain wrote his most important works, including Adventures of Huckleberry Finn, The Adventures of Tom Sawyer, and A Connecticut Yankee in King Arthur's Court. In addition to tours, activities and educational programs are offered at this National Historic Landmark, illuminating Twain's literary legacy and providing information about his life and times.
Harriet Beecher Stowe House
The Harriet Beecher Stowe Center preserves and interprets Stowe's home of 23 years (a beautifully preserved Victorian Gothic cottage, now a National Historic Landmark), promotes vibrant discussion of her life and work, and inspires commitment to social justice and positive change. Take a conversational, interactive tour to learn about Stowe's life and the impact of her anti-slavery novel Uncle Tom's Cabin.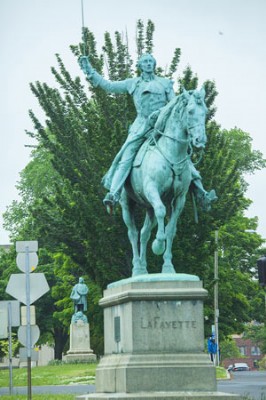 Marquis de Lafayette Statue
This statue honors Marquis de Lafayette, a French aristocrat who came to the colonists' aid during the American Revolution, serving alongside Washington. Lafayette is depicted on horseback, leading troops into battle. Sculpted by Paul Wayland Bartlett and dedicated in 1932, this statue is a copy of the 1907 original which stands in the Louvre.